LiveChat is a simple and beautifully designed tool for online communication between a company and its customers. Now your clients can contact you faster and easier than ever before.
By using live chat, you can get some answers in real-time. For example, our customer service agents can tell you more about our products or help you track your order.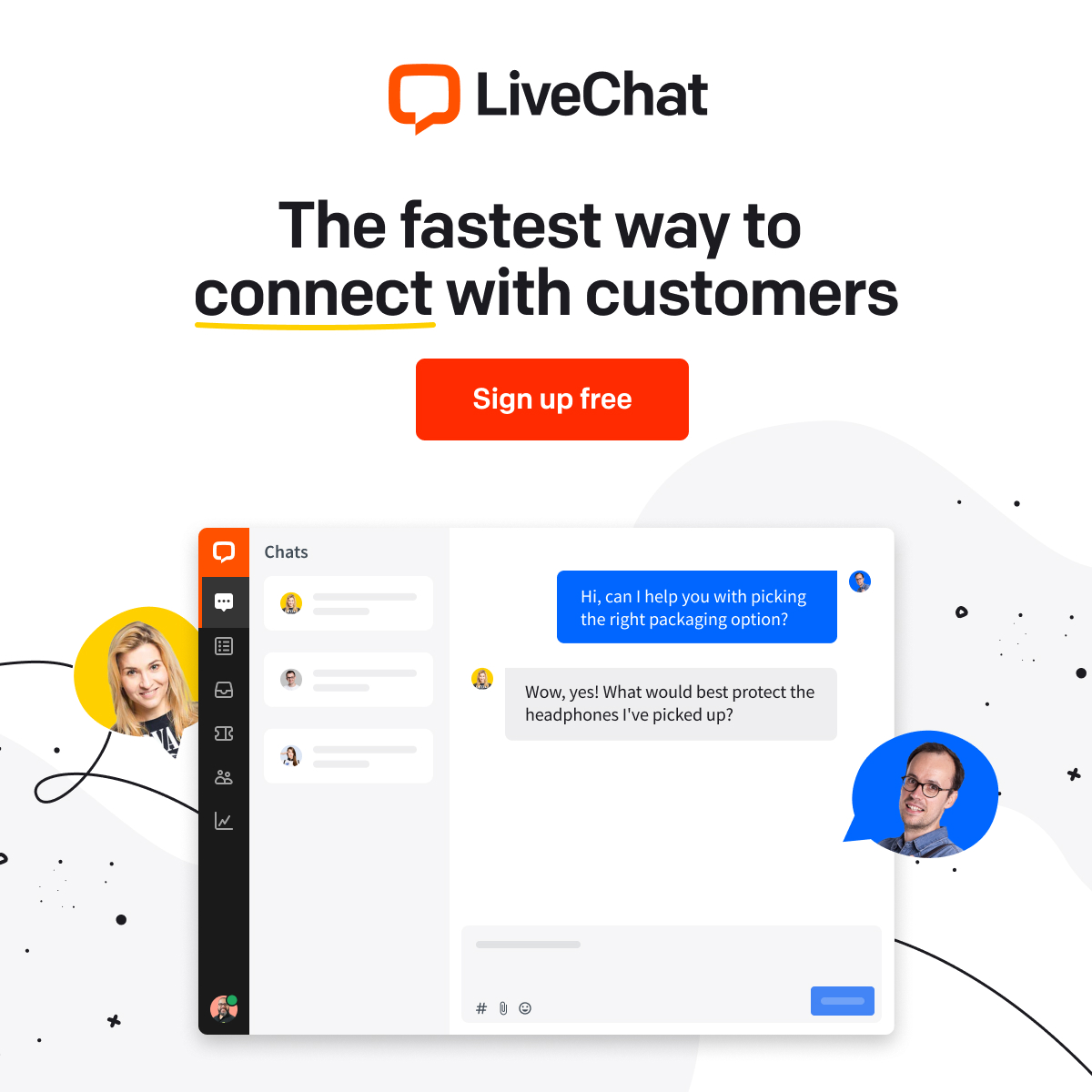 LiveChat offers a built-in ticketing system, offline messages, canned responses, customer message preview, exportable reports and SSL encryption.The ticketing system allows you to receive customer queries when you are offline. By creating tickets from your chats, you can stay in touch with customers when you need some time to deal with their cases. You can also receive your support emails as tickets and handle them in one place. It's possible to fully customize LiveChat widget with CSS styles. The customization can differ for domains and pages. It comes with many native integrations like WordPress, Shopify, AdWords, Mailchimp or Facebook. It also allows you to build your own integrations, as you get access to powerful API.
LiveChat comes with advanced reports, that give you the overview, as well as a detailed look at your customer service activities. Basic reports show you the number of chats you get, tickets you receive, your response time and your customer satisfaction score. If you run several websites, you can place LiveChat on each of them with no additional charge. Using the work scheduler, you can easily manage your team's working hours for each day of the week.
LiveChat is an online customer service tool for ecommerce. It opens up a new sales and support channel that can complement your email and phone use. With features like visitor monitoring, built-in ticketing system and many integrations, you're ready to serve your customers from one place.You can use LiveChat from your favorite browser or via desktop apps for OSX and Windows. When you're on the go, you can simply turn the mobile app on and talk to customer from any place and at any time. You can also place LiveChat on your Facebook page and reply to messages and comments directly from the app. LiveChat support is available 24/7 so you can reach them at any time you need to.
LiveChat is a tool for online communication between a company and its customers. It easily integrates with platforms like WordPress, Shopify, AdWords, Mailchimp or Facebook.
LiveChat is an online chat solution that helps you connect with your customers on your website. When using LiveChat, you can see in real time the way visitors behave and approach them on each step of the buying process. This allows you to easily provide instant help and, in result, increase your conversion rates.
LiveChat comes in three packages tailored to the needs of small, medium and big companies.
How can you install live chat on your website?
Frankly, it couldn't be easier. Copy a HTML code to your website or use a plugin and respond to visitor's chats right away! Thanks to LiveChat's user friendly application, chatting with customers and providing amazing customer service has never been simplier. You can use your favourite browser, desktop or mobile application.
If you need any tips regarding the implementation, the LiveChat's support is at your service 24/7! You can ask any question at any time and find out on your own how quick, easy and intuitive is chatting!
How can live chat help your business?
Customers love live chat. Ease of use and ability to contact agents in seconds makes a great customer service. And not just that! Being able to ask any question at any time greatly increases the chance that customers will buy your products!
Offer real-time assistance to your customers and increase their happiness at the same time. Soon you will notice that your conversion rate skyrockets. Informed and happy customers buy more!
How does LiveChat work?
Imagine that you want to buy a pair of running shoes. You enter a shoe store's website and you find a model you'd like to buy, but your size is out of stock. Obviously, you'd like to know when your size will be available. Wouldn't be great if you could ask your question immediately, without making phone calls or writing emails?
Luckily, it is possible with live chat software. All you need to do is to click on a chat icon and you can instantly chat with an agent! You get your help immediately, without phone costs and without waste of time!
LiveChat allows you to chat with customer service in a flash. You don't need to install any software. All you need to have is a computer and internet connection! Easy, isn't it? Imagine how pleased will be your clients!
What is ChatBot?
Wondering how to increase your conversion rates? With ChatBot it couldn't be easier. Engage more customers, boost sales and increase customer satisfaction with instant responses.
ChatBot gives you the flexibility you need. Just create a chatbot scenario and let the bot handle customer service 24/7/365.
ChatBot is a platform that lets you build your own bots with no programming skills. You can simply create your conversation scenarios using a drag & drop interface and connect it with a communication channel you're using.
ChatBot is a one-in-all solution that lets you create fully operating chatbots. The scenario tree structure and drag and drop interface are very intuitive. Quick Academy lessons can guide you through more complex topics such as capturing user data, using filters and training your bot. You can publish your bot in seconds using one-click integrations with popular messaging apps, and live chat services or just use a Chat Widget.
ChatBot provides the best bot platform for designing, building and deploying conversational chatbots to talk to customers and to provide information to users. With support for one-click integrations with Facebook Messenger and a range of other services, you can run powerful and intelligent bots in no time. ChatBot allows using entities, creating conversational scenarios, and it leverages both Natural Learning Processing and Machine Learning to develop a human-like experience for customers.
Check Out following videos for more Info
Short guide through the basic customization features, show you how to make your chat window look pretty and match your website. We'll also get through a short chat simulation
A Short video that will help you understand what the core of live chatting is and why it is essential for every online business
ChatBot can help you support your customers and drive sales at the same time! See how you can benefit from automating your online support with ChatBot & LiveChat